Last Thursday I enjoyed a rare girls night out with my friend Jenny as we drove to Roseville to create our own succulent gardens courtesy of Plant Nite. For those of you who have never been, it's really fun – drinking and planting something pretty – two awesome things, right?
Our event took place at Joe Sensers, which is a nice place I'd never been to before. After parking right across from the motel, and feeling like we were in a bad murder film, we made our way in and after getting there CRAZY early, grabbed some drinks and hung out until the rest of the group arrived.
The terrarium we were scheduled to make that night was something like this: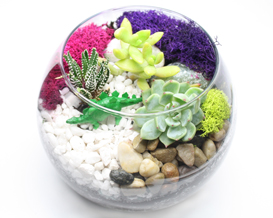 The nice thing about going to events like Plant Nite is that all of the materials you need are included in the cost of admission: the bowl, appropriate type of soil, the plants, rocks, moss, and fun little figurines.
I won't bore you with the step-by-step breakdown, but I WILL show you my finished terrarium.
TA DA!
Awesome, right? One of the instructors was going through the figurines and commented on the fact that there was an orange moose. I immediately perked up like
and when she saw how excited I was she handed it over so I could complete my succulent garden.
It was a fun time, and it's always great to get out and do something creative with a friend.
Until next time,
Linz